ASID Interior Design Billings Index (IDBI) June 2021
Billings Index Improves while Inquiries and Outlook Decelerate, but Still Positive
June business performance continues to add top numbers to the survey's 10-year history, showcasing strong, current optimism for the industry.

Overall business performance climbs up and records its 12th consecutive month in expansion territory (i.e., above 50).
Billings index* increased by 3.4 points to 62.4 for June, rebounding from a slight dip in May (59.0) after a record-setting month in April (68.3).

The three-month moving average for the billings index increased one point to 63.2, the highest reading in the survey's history.
The South remains the strongest region with a three-month moving average of 69.3 (Midwest: 60.2, Northeast: 63.1, West: 61.6).

Inquiries index* moved down 2.4 points to 64.3 but continues to show strong growth.

Inquiries for the past three months rank among the top five historically for the survey (April: 5th, May: 2nd, June: 4th)

Sentiment for the future continues to remain robust for the second half of 2021, despite the six-month outlook decreasing 2.5 points to 65.5.

Some panelists have indicated that a slowdown might be emerging due to the summer months (i.e., vacation).

43% of panelists indicated that business performance was better than expected over the first six months of 2021 compared to only 4% stating that it was worse than expected.
When asked about price changes over the last 12 months, panelists noticed these top five items/products: Cabinetry (84%), Lumber (84%), Fabrics & Upholstery (71%), Furniture – residential (69%), Flooring (63%).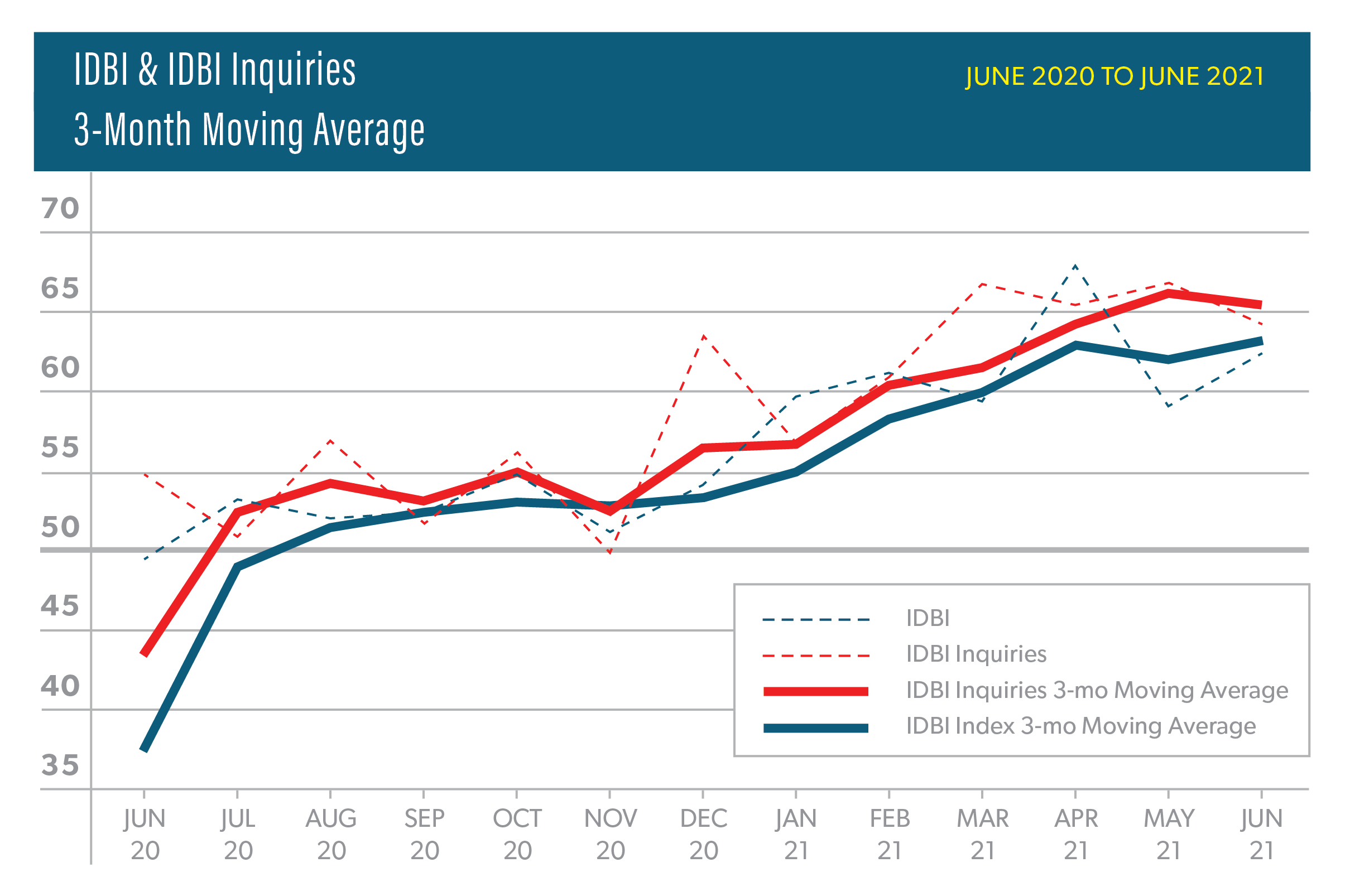 *Note: Any score above 50 represents expansion (i.e., growth) and below 50 represents contraction (i.e., decline).
Important Economic Indicators
Employment Updates:

As of June 2021, overall employment recovered 15.6M or 75% of the jobs lost from March 2020
As of May 2021, Interior Design services recovered 3.3K or 65% of the jobs lost from March 2020
As of May 2021, Architectural services recovered 5.6K or 62% of jobs lost from March 2020

Producer Price Changes (as of June 2021):

Lumber (softwood) increased 135.7% over the last 12 months
Flooring increased 17.1% over the last 12 months
Textiles & Fabrics increased 16.1% over the last 12 months
Furniture – residential increased 7.3% over the last 12 months
Cabinetry increased 2.0% over the last 12 months
Categories
Interior Design Billings Index (IDBI)