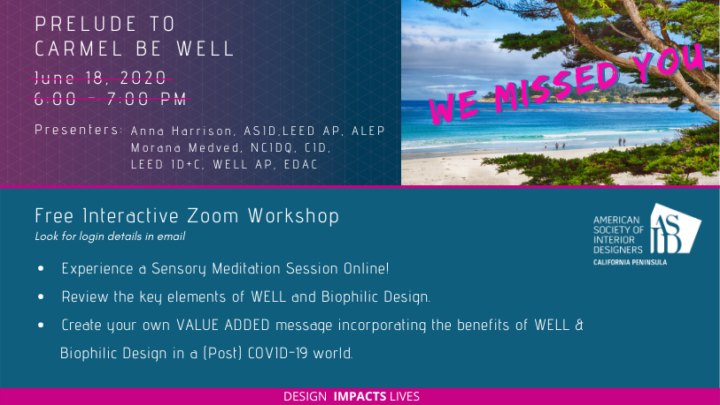 Prelude to Carmel BE WELL
Description
WE MISSED YOU!!
Prelude to Carmel Zoom Workshop was our first interactive zoom workshop. Over 30 people attended. We hope to host more interactive Zoom events as we weather the COVID-19 Shelter In Place mandates and we hope to see you soon. Below you will find a description of the workshop outline as well as more information about WELL Design and Biophilia.
ZOOM BE WELL Workshop – Prelude to the BE WELL Conference in Carmel (September)
This will be an interactive 60-minute ZOOM BE WELL workshop. We will kick off the meeting with a Sensory Meditation exercise before diving into WELL and Biophilic design. Anna Harrison and Morana Medved will review the specific concepts of WELL and Biophilic design. A ZOOM Breakout session will follow to help participants craft their own individualized Value Added WELL and Biophilic statements which they will be able to include in their own client presentations.
Key takeaways from the evening will be:
1. What participants will do to improve their well-being.
2. How the participants will implement well-being into their projects.
The evening will be capped off with a Q&A answer session as well as a discussion about plans for the upcoming event in Carmel.
More information about WELL Design and the Presenters for the Prelude to the BEWELL Conference in Carmel