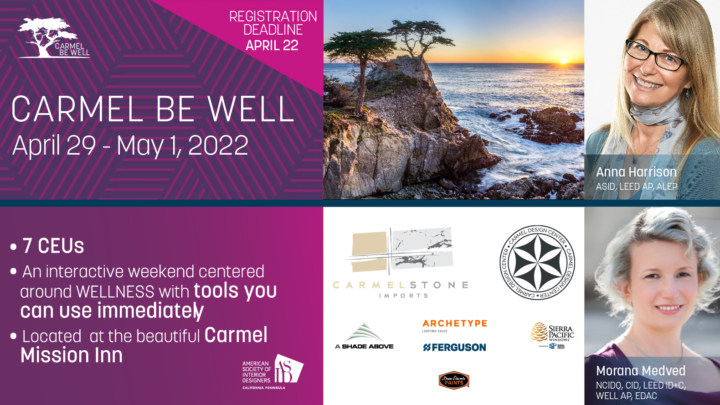 Description
Wellness-focused CEU's IN-PERSON. Collaboration, Fellowship, and more, in the stunning natural setting of Carmel-By-The-Sea.
It is time to take our designs beyond just beautiful, safe, and code-compliant interior environments that meet our client's program, schedule, and budget requirements.
Join us for Carmel BE WELL, where we will bring clarity to the amorphous concept of wellbeing and provide practical strategies to incorporate it into your projects. This weekend event will be packed with informative sessions and the chance to interact with your fellow designers and industry partners in the beautiful setting of the Monterey Peninsula.
Registration costs include the CEU sessions, breakfast, lunch, snacks, and beverages.
Hotel accommodation is not included in the price of registration. Attendees must make their hotel accommodations separately.
All presentations will be located at the Carmel Mission Inn.
Evening Food and Drink networking events will be located off location. Attendees will provide their own transportation to networking events.
No registrations will be allowed at the conference. You must pre-register to attend.
REGISTRATION DEADLINE EXTENDED TO MONDAY APRIL 26th.
FRIDAY, April 29th, 2022
11:00 AM – 1:00 PM Check-In and Box Lunch
1:00 PM – 1:15 PM Welcome and Introductions
1:15 PM – 2:30 PM CEU(1) Best Practices for Specifying Tunable White Light – Archetype Lighting Sales
2:30 PM – 3:00 PM Break
3:00 PM – 4:15 PM CEU (1): Creating Nurturing Spaces that Honor You Using the Wellbeing Science of Biophilia in your Kitchen and Bath
4:15 PM Hotel Check–In
6:00 PM – 8:00 PM Reception at the Carmel Design Center – Hors d'oeuvres and Beverages
Saturday, April 30th, 2022
7:00 AM – 8:30 AM Breakfast Buffet at CMI
8:30 AM – 9:00 AM Welcome and Announcements
9:00 AM – 12:00 PM CEU (3) Be WELL Workshop
12:00 PM – 1:00 PM Buffet Lunch at the Shearwater Tavern
1:00 PM – 2:15 PM CEU (1) Seeds of Sustainability
2:15 PM – 2:45 PM Break
2:45 PM – 4:15 PM CEU (1) Illuminating Our Experiences With Human Centric Lighting
4:15 PM – 4:45 PM Closing Remarks
6:00 PM – 8:00 PM Reception at Carmel Stone – Light Dinner Plates and Beverages, Music
Sunday, May 1st, 2022
Departure at leisure – Check-Out from Carmel Mission Inn at 11:00 AM
CEU DESCRIPTIONS with PRESENTER INFORMATION
Best Practices for Specifying Tunable White Light
AIA Course Abstract – BCS103; Best Practices for Tunable Light Specification
Amber Hohman| Principal, Part-Owner | Archetype Lighting
Course Description:
Tunable light specifications are growing, and the specification and application of this technology are growing. This course will walk the audience through several aspects of this new technology, including - Current solutions in the market - Practical applications, and "how-to" info in the specification of tunable light projects. - Pairing of tunable Lighting with Controls - Creating an energy-code compliant sequence of operations.
Learning Objectives:
Educate the audience on the various tunable light solutions in the market

Discuss differences between components that make up Tunable Fixtures

Cover the advantages and disadvantages of current controls solutions

Provide examples of practical applications for tunable light projects and review a specification checklist for tunable light projects
Presenter: Amber Hohman | Principal, Part-Owner | Archetype Lighting
Amber Hohman has over two decades of experience bringing world-class lighting, furnishings, and decor to Northern California projects. She is passionate about creative, exceptional design, and she firmly believes that the right light can make an environment.
FERGUSON with House of Rohl CEU (1)
Creating Nurturing Spaces that Honor You: Using the Wellbeing science of biophilia in your kitchen and bath
Christine Elderkin-Campos | AKBD | House of Rohl
Christine Elderkin-Campos, AKBD is Senior Luxury Sales Manager with House of Rohl® in Northern California, since 2018. In addition to working on the manufacturing side, Christine has 15+ years of experience in the high-end decorative plumbing and K&B remodel showroom space. She received her degree in Interior Design from MPC Monterey in 2007 and her AKBD certification from NKBA in 2009. Passions include sourdough baking, sewing, Disney, and hiking. She currently lives in Santa Cruz, CA.
Join this interactive, visually captivating, and research-driven presentation. In it, you will be guided through an overview of how to use the psychology of interior design and the healing science of nature, known as biophilia, within your kitchen and bath spaces to nurture your wellbeing and intentional quality of life.
Learning Objectives:
Provide an overview of the research-driven framework of biophilic architecture and design for sustainability and client wellbeing
Explain how the evidence-based benefits of biophilia within kitchen and bath spaces can support design clients within the broader concepts of sustainable design and environmental psychology
Investigate essential considerations when applying biophilic design principles to the design process of kitchen and bath spaces to reduce stress, mitigate fall risk and foster client wellbeing
Compare a range of diverse scenarios outlining client's kitchen and bath needs and apply appropriate application solutions utilizing biophilic design principles to help meet client's sustainability and wellbeing goals unique to those who live

in the space.
BE WELL WORKSHOP: Interior Design Strategies that Promote Well Being CEU (3)
Anna Harrison | ASID |LEED AP | ALEP
Morana Medved | IIDA | CID | LEED AP ID+C | WELL AP | EDAC
Course Description:
In this highly interactive workshop, participants will gain personal insight into the meaning of well-being as it relates to the definition of interior design and the moral and ethical duty interior design professionals have to create interior environments that promote well-being.
Participants will learn about the 10 Concepts of WELL and the 14 Patterns of Biophilic Design and how to implement these strategies in their design practice on behalf of client well-being. Equipped with scientific evidence and resources, participants will be empowered to assess their current projects and design for the future, confident that their work will promote well-being.
It is time to take the practice of interior design to a new level, beyond beautiful, safe, and code-compliant interior environments that meet our client's program, schedule, and budget requirements. Now we must also incorporate interior design strategies that promote well-being.
Presenter: Anna Harrison, ASID, LEED AP, ALEP
Anna Harrison is an educational planning and design professional who draws upon her 30 years of experience to empower school districts to discover and implement their long-range educational vision and mission. A veteran interior designer, community college instructor, and workshop facilitator, Anna leads stakeholder engagement experiences that build community and generate momentum for sustained success. Her current project work is focused on K-12 and Community College district-wide and campus-specific educational facilities master planning, encompassing community and educational vision, education specifications, conceptual design, and schematic design. Drawing upon a broad range of interactive strategies, including design thinking, Anna also provides workshops and training on organizational development, building cohesive teams, sustainability, biophilic design, and activating learning environments with flexible furniture.
Presenter: Morana Medved | IIDA | CID | LEED AP ID+C | WELL AP | EDAC |Senior Tech Lead, Artik Art + Architecture |Lecturer, Interior Design Department, San Jose State University
Morana Medved is the Senior Technical Lead at Artik Art + Architecture. She has over 15 years of experience in a large variety of projects, including commercial (high-tech and other corporate), hospitality, educational, scientific (laboratory), healthcare, retail, multi-family, and residential architecture and interiors. Her passion is using great design to promote the health and wellness of building occupants while maintaining the environmental sustainability of the structure, systems, and site. She is an accredited professional in both LEED (Leadership in Energy and Environmental Design) and WELL (WELL Building Standard). Morana is also a lecturer in the Interior Design Department at San Jose State University (SJSU), where she teaches building codes, construction documentation, architectural systems, and Building Information Modelling (Revit). She is a faculty advisor for the International Interior Design Association (IIDA) Student Chapter at SJSU, and her former roles include VP of Professional Development IIDA North California Chapter and IIDA Student Affairs Chair with the Silicon Valley City Center.
SIERRA PACIFIC WINDOWS CEU (1)
The Seeds of Sustainability | AIA Course SEEDS2019 | 1 AIA Credit HSW
Nathan Ferraris | Architectural Consultant | Sierra Pacific Windows
Course Description:
This seminar follows the life cycle of wood, wood fiber, and mass timber as sustainable design solutions for the built environment. A focus will be on continuous improvement considerations for project teams as well as addressing the positive impact of wood-based building materials for carbon sequestration, facility management, and the occupants' health and wellbeing.
Learning Objectives
Review wood as a natural resource as well as resource management practices that protect ecosystems
Address sustainable manufacturing standards to meet code compliance, maintain workplace safety, and the relevance to green building programs
Discuss how wood, mass timber, & wood by-product building materials benefit design intent, performance requirements, and occupant health
Explore how wood materials increase building performance, improve efficiencies, and have the positive impact on our rapidly changing planet
Presenter: Nathan Ferraris | Architectural Consultant | Sierra Pacific Windows
Nathan has worked for Sierra Pacific Industries and Sierra Pacific Windows for 20 years. He started with the Window Division in the shipping department and worked his way through many different areas of manufacturing, learning the products from the ground up. After several years in manufacturing, Nathan worked his way into Supervision and Management. Looking to expand his knowledge of the Timber Industry, he moved into Millwork Sales specializing in Window and Door components, before returning to Sierra Pacific's Window Division as the Northern CA Architectural Consultant.
Illuminating Our Experiences With Human Centric Lighting
Course Description:
Human centric lighting is an oft-discussed design term; yet, there is confusion about what it is and how to use new (and existing) technologies to achieve it. This course helps professionals understand 1) how to define human centric lighting, 2) what benefits it can provide to people, buildings, and businesses, and 3) how to practically apply it when designing projects. It also addresses the intersection between electric light and natural daylight and how achieving a human centric design requires an integrated approach to those two disciplines. This course will be especially useful to interior architects, interior designers, and lighting designers.
Learning Objectives:
Definition of human centric lighting + its elements

Benefits of human centric lighting

How to design human centric lighting

How to sell human centric lighting to clients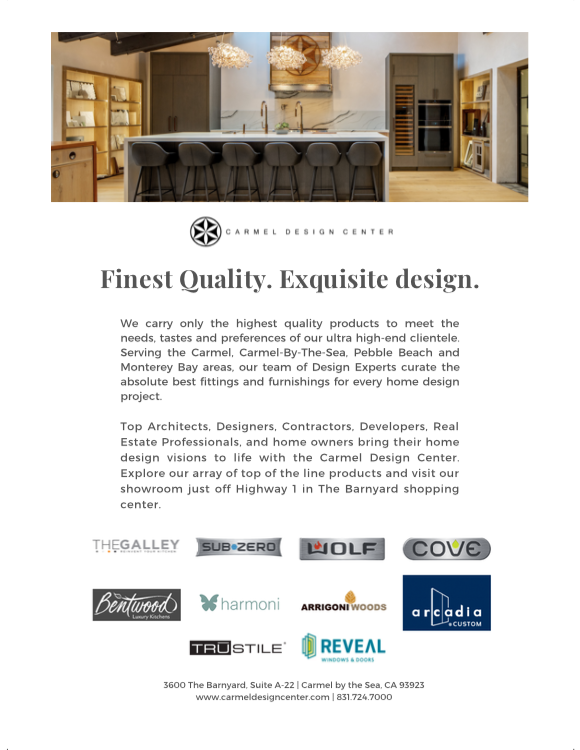 Or visit the Carmel Design Center Website